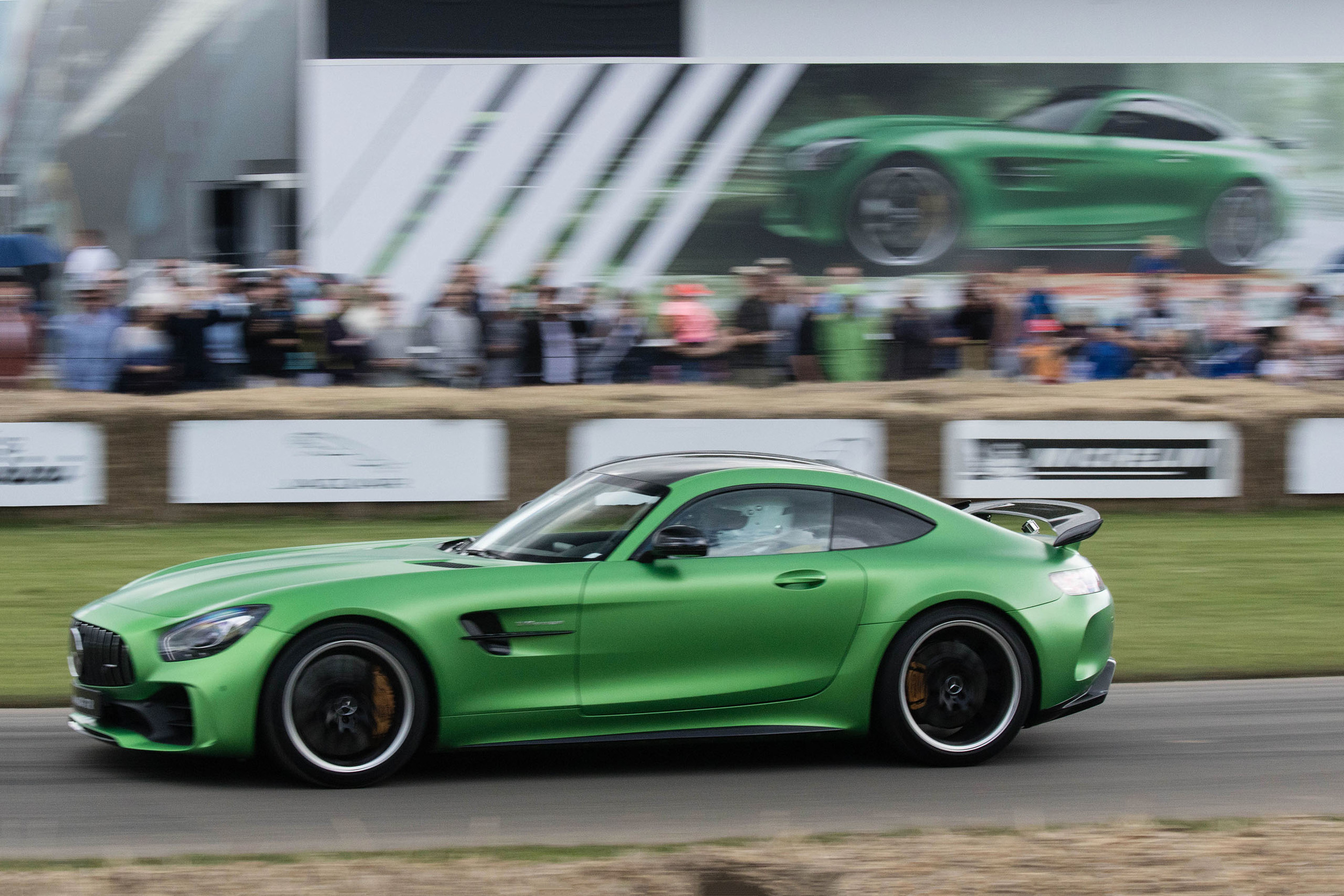 Mercedes-AMG has unleashed a new 'Green Hell' GT R.
Making its public debut at Goodwood, the German brand says that never before has it packed 'so much motorsport technology into a production vehicle'. Powered by a 4.0-litre, twin-turbo V8 engine with 585 hp, 0-62mph takes 3.6 seconds, while top speed is 198mph. As well as running on extensively modified suspension, the GT R also has new aerodynamics and an 'intelligent lightweight construction'.
Finished in exclusive "AMG green hell magno" paintwork, it leaves no doubt as to the sports GT's origin, having spent most of its development time in the "Green Hell" of the Nurburgring. Wider front and rear wings allow an increased track width for optimum grip and even higher cornering speeds. The new front fascia with active elements, the large rear aerofoil and the new rear fascia with double diffuser enhance aerodynamic efficiency and 'help ensure optimum grip'. The lightweight forged wheels shod with cup tyres as standard are likewise designed for maximum driving dynamics says Mercedes. The same applies to other new features such as the active rear-wheel steering, the nine-way adjustable traction control system and the adjustable coil-over suspension with additional electronic control.
Professor Thomas Weber, Member of the Board of Management of Daimler AG said: "Our sports-car and performance brand AMG has its roots in motorsport and, ever since its formation, has repeatedly faced up to the competition on the racetrack. These genes are particularly prevalent in the new AMG GT R. Boasting a wealth of technological innovations, the new top-of-the-range model is proof of the close collaboration between our constructors of racing cars and road-going vehicles."
"With the new AMG GT R, we have reached the next level of driving performance. This road-going sports car with motor-racing genes and innovative technical solutions offers an ultimate driving experience that allows people to feel our motorsport origins in every fibre. It combines the driving dynamics of our AMG GT3 racing car with the everyday practicality of the AMG GT. Those with petrol in their veins will be thrilled by the radical longitudinal and lateral acceleration, the precise turn-in, and the sensational grip. We have modified all performance-relevant components and linked them together intelligently for maximum driving dynamics," says Tobias Moers, CEO of Mercedes‑AMG GmbH.
The third member of the AMG GT family is the new spearhead of the AMG model range. Featuring pioneering technologies, the AMG GT R was designed with racetrack use firmly in mind.
See the GT R in action at Goodwood below: