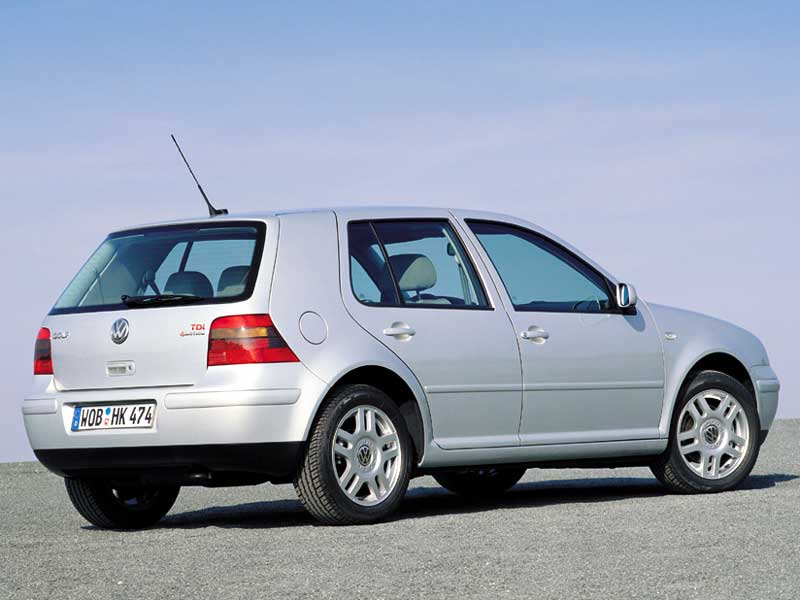 Whether you want an unassuming shopping hatch or a race car for the road, there's a Mk4 Golf for you. With a wide choice of engines and bodystyles, there was a bewildering array of Golfs available. Considering its ubiquity, the Golf's image is strong (sometimes undeservedly so), meaning residuals are high. Despite this, there's no shortage of examples - but with frequently high parts costs don't buy an example that needs lots of fixing.
Key Dates
11/97: Mk4 Golf arrives with 1.4, 1.6, 2.0, 2.3 V5, 1.8T petrol engines. Also 1.9-litre diesel with turbo (TDi) or without (SDi). 3 or 5-door hatches available.
11/98: 2.3 V5 on sale.
8/99: Estate launched.
1/00: 2.8-litre V6 4Motion on sale.
5/02: ESP now standard. 25th Anniversary Edition GTi 1.8T appears.
11/02: R32 on sale.
5/03: 1.4, 1.8T, 2.0 get Euro 4 engine
Volkswagen Golf Mk4 (1997-2004) Checklist
Check headlight condition; they're pricey to replace
Leather interiors are durable, but costly to fix; watch out for plastic coating coming off the door armrests.
TDi 110 ECU can fail - make sure the engine doesn't stall when coming to a halt.
Interior trim often fragile.
Front windows come out of their carriers.
Pipe for rear wash/wipe can come adrift, staining headlining and filling boot with water.
1.4-litre water pumps leak - which can lead to cam belt failure and destruction of the engine.
Rear brake calipers hoses fail.
We Like
Strong image
Solid and safe construction
Superb TDi engines
We Don't Like
Build quality isn't always great
Not great to drive
Equipment levels often poor