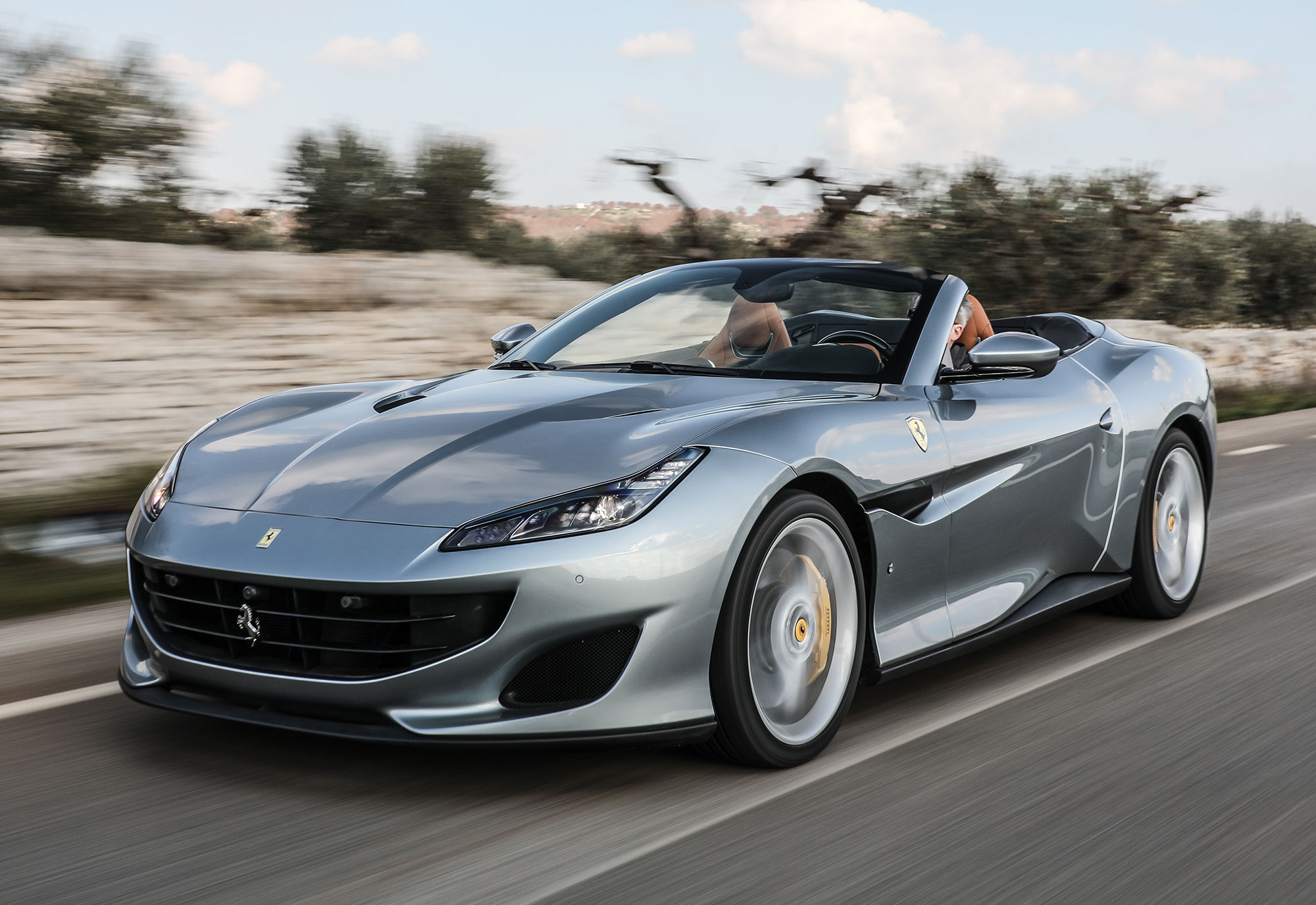 Falling in love again. Kevin Haggarthy drives Ferrari's new super baby – the Portofino.
Car buffs are well familiar with the emotive superlatives used to describe Ferrari. Some of you may be even bored with them. Yet each time I drive a new Ferrari I lose myself to a spiral of poetic prose like a lovesick child. I've finally found 'love'…..again!
Yet it is a motor car. A machine. How do you create life, feeling, emotion, excitement, exhilaration inspiration and beauty in….a machine? The answer lies in spending a day behind the wheel of the new Ferrari Portofino.
This very same reflection took me back to the dinner conversation with Ferrari senior personnel the night before. To my left was the Head of Product Marketing, to my right a chap called James May who does a bit of telly, to the right of him the Portofino's Chief Designer and in between, a few other scribbler colleagues. We debated words and phrases symbolising Ferrari - 'beauty' 'speed', 'style', 'exclusivity' all got the thumbs up. Yet, if one of my non-Ferrari colleagues around the table came up with a word or phrase that didn't quite fit the brand, suddenly you'd hear an animated response from the Ferrari personnel "….no, no no, that is not 'Ferrari!".
The point was indeed clear: what makes Ferrari are the human and emotional qualities that can only be created by those who feel the spirit of the brand in their souls; "It is a big responsibility " Mr Head of Marketing tells me, "– but one we embrace." I don't see how anyone who doesn't have that essential Ferrari DNA in their veins could ever successfully work for this brand – which is hence duly cliched with emotion.
The new Portofino has more of the spiritual Ferrari DNA than the California T it replaces. That car, albeit softer and more user friendly than other models, was indeed capable of creating the Ferrari magic, whereas the previous California was geared towards less demanding customers, who were maybe trying the brand for the first time, and wanted a relatively 'easier to drive' prancing horse that could be used day to day. I suspect many of its customers even lived in California, where sunshine and long-distance cruising are typical.
But the Portofino is having none of that; whilst admittedly a tamer expression of the brand and retaining the California's 'drivability', it performs from the outset like a true Ferrari. No more Mr Nice Guy. With the Portofino, if you want to buy into the brand, you buy into it 'pure'.
The Portofino's much more alluring styling was apparently inspired by the legendary Daytona. Instead of the lazy sunshine of California, in the Portofino, we have a name inspired by one of the most charming villages on the Italian Riviera. 35% stiffer and 80 kg lighter than the outgoing California T, it sparks into life with an exhilarating scream from its award-winning V8 engine which is boosted by an extra 40bhp. Add to that technical handling improvements; stiffer springs, the latest evolution of the 'magnetorheological' damping system, (SCM-E) and a new ECU configuration implementing control algorithms to improve the dynamic handling. You can see where this is going. Now we have a true 'baby Ferrari'.
Yet whilst so true to the brand, this prancing horse drives quite differently to any of the many Ferraris' we have previously driven. The lightness, power and precision give it more of a 'go-kart' feel, yet that uncanny Ferrari know-how makes it a pliant and comfortable companion when the Manettino is set to 'comfort' for everyday driving.
The Portofino is a positive step change up from the California; more 'Ferrari' if you like but not enough to deter first timers to the brand, or those who may be disinclined towards a harder core driving experience.
It's also a new Ferrari driving experience in its own right; a lighter more agile car, its now electronic steering requiring a finer balance of driving style – no place for aggression and no need for it. The back end will respond instantly to sharp steering inputs and should you confidently (and surprisingly easily) tease it out of line, it soon self-corrects and helps to point you in the right direction – even without traction control. As with all well-sorted chassis, it's predictable enough not to cause alarm, and actually, if you have the ability to drive it on the edge of adhesion in a safe environment, ie a track or handling circuit, you'll have the time of your life.
At normal urban speeds and in 'comfort' setting, the Portofino is relaxed and absolutely driver friendly to any with a reasonable level of skill. Be reassured. At these speeds you will be inclined to enjoy the engine note and the sunshine while appreciating the admiring glances that invariably follow this beautiful car; its scoops and lines much more in keeping with the contemporary Ferrari 'look'.
On take off the throttle responds to the slightest movement of toe, never mind 'foot'! it is progressive with that keen engine note that tells all within audible distance that a Ferrari is in town. That scream progresses through each of the gears at the flick of a steering mounted paddle, or automatically self-regulating, whichever you choose….then it's up to you.
If you are a keen driver, you will soon step up the pace and enjoy the character change that follows suit. As we've said, the car is light but there's plenty of grip, and until the tyres are warm it isn't wise to do anything unorthodox. As the car warms to your new driving style the Ferrari DNA begins to shine. Some very clever person at Ferrari knows exactly what you're looking for – and Dr Jekyll becomes Mr Hyde with 0-60 in 3.5 seconds and a top speed of circa 200 mph!
At motorway speeds it's exciting - looks good, (as it passes you) sounds good, (as it passes you) looks pretty (as it brakes in front of you) and sits solid (as it accelerates away from you). Quite frankly it is an object of envy – a car you look at and wish you could own one day. And if you have the wherewithal (a shade over £166k) – it's on sale now, with first deliveries expected in July.
The Portofino is a car to enjoy for the sheer purity and fun of driving. And you ask why I love Ferraris?
Specification
Engine - 3855 cc twin turbo V8
Power - 592 bhp
Transmission - 7-speed dual-clutch auto
0-62 mph - 3.5 secs
Top speed - circa 200 mph
Average fuel consumption - 26 mpg
Price £166,180