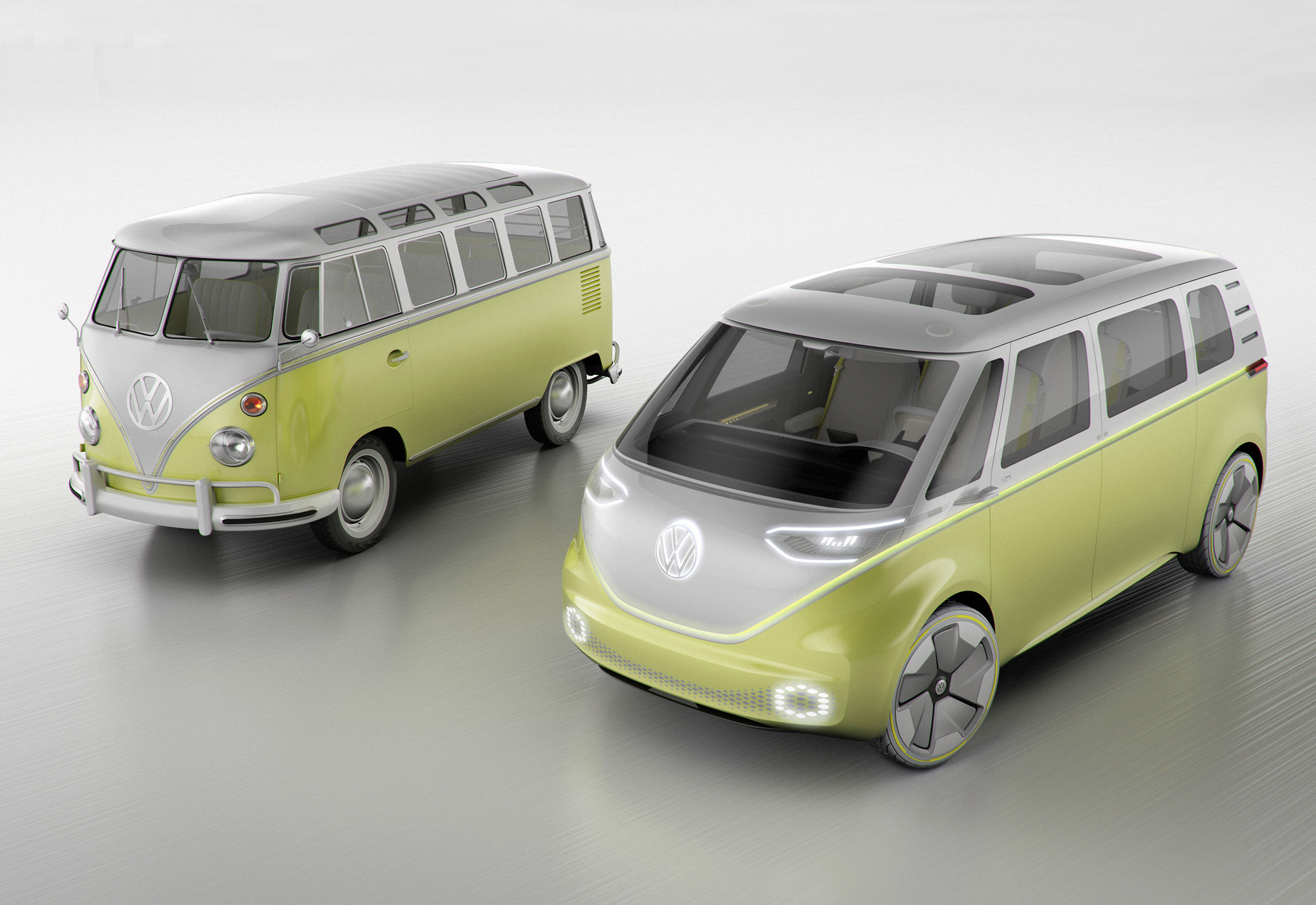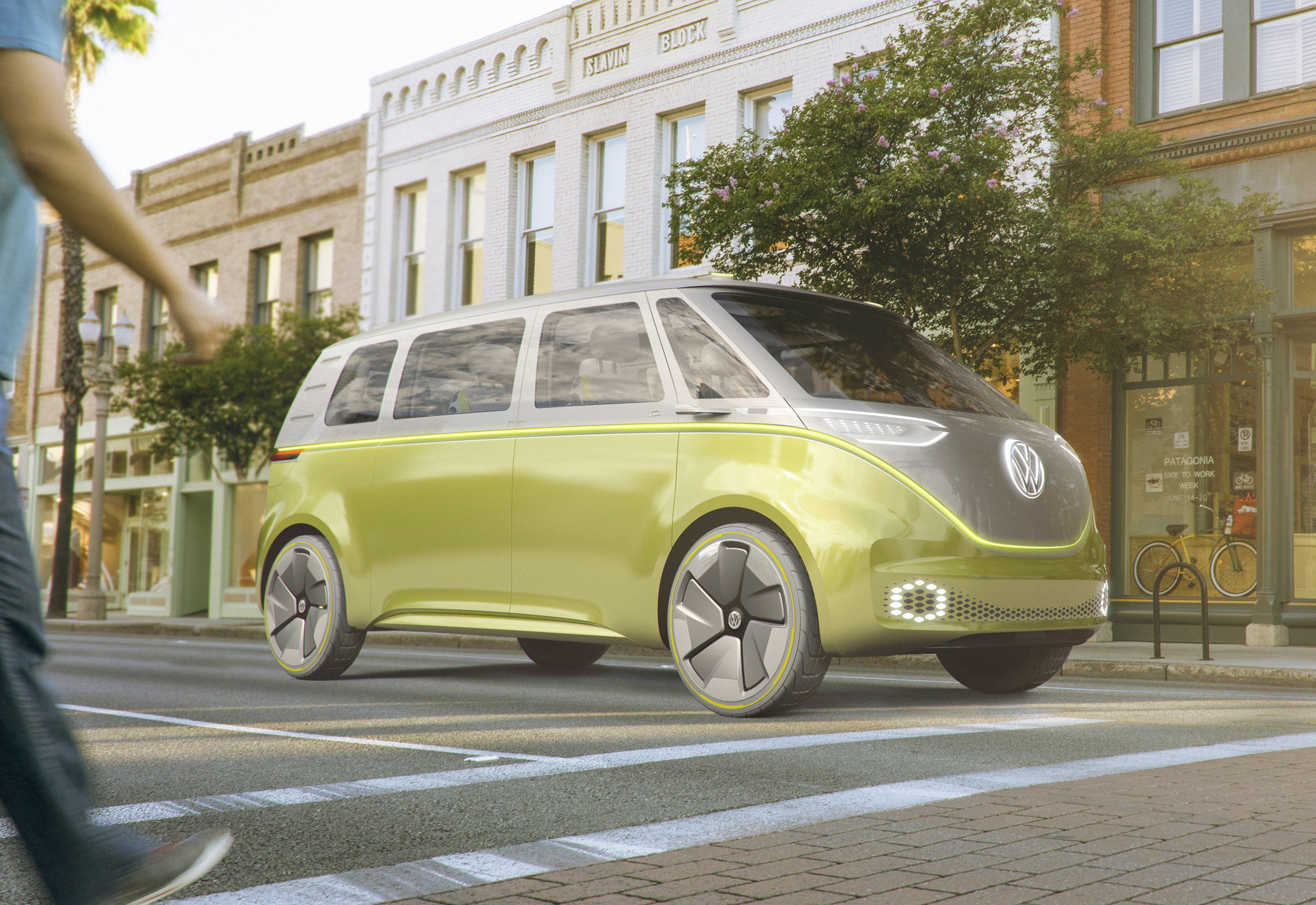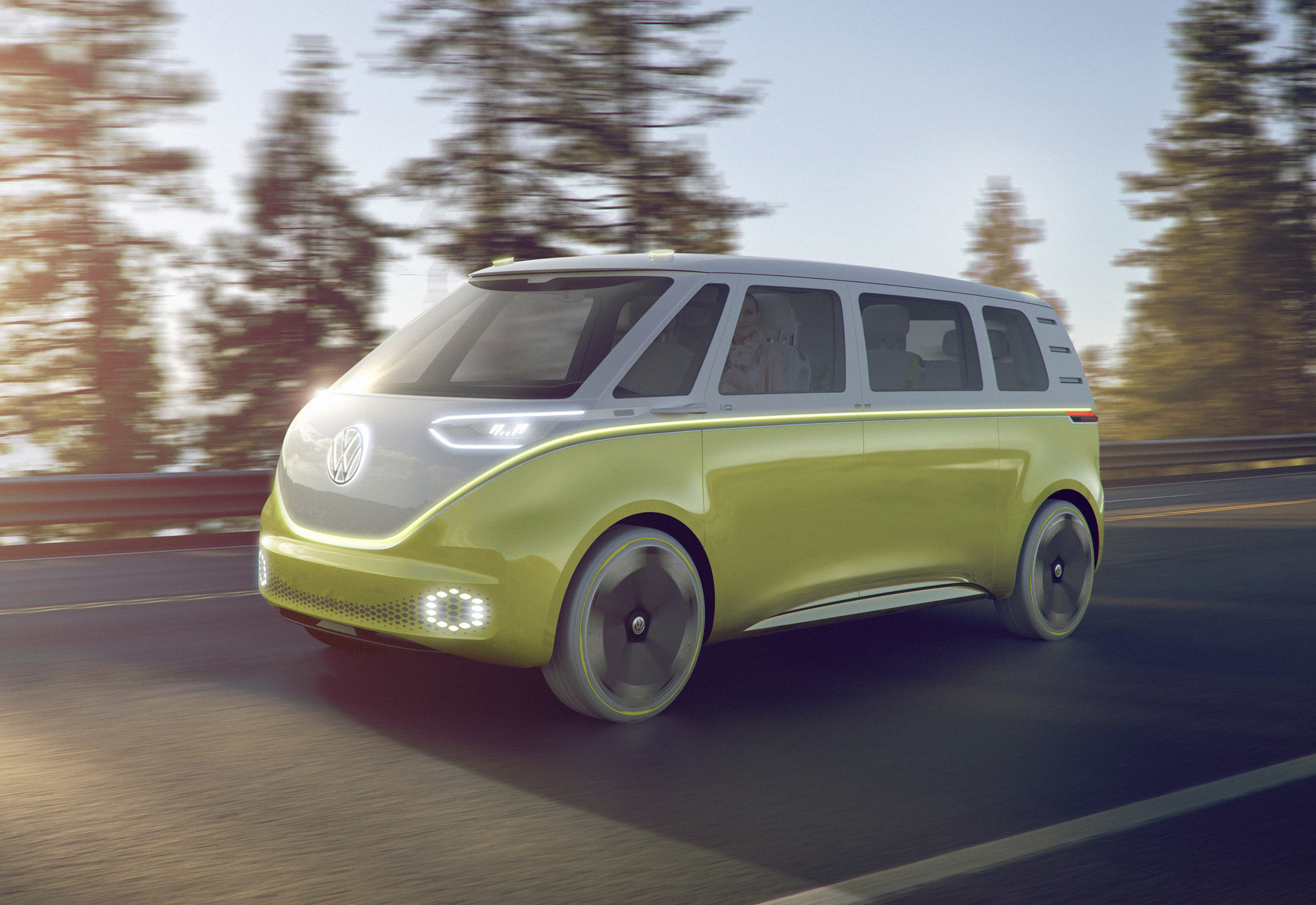 The new, retro-inspired electric 'I.D. BUZZ concept' has debuted in Detroit.
The I.D. BUZZ is described as a 'versatile, zero-emissions, all-wheel drive Microbus for the future'. With a electric driving range of up to 270 miles form its two motors, the concept also offers a fully autonomous "I.D. Pilot" driving mode, during which the driver's seat can be turned 180 degrees to face the rear while the steering wheel retracts and merges into the instrument panel. VW says the I.D. Pilot mode could make it into full production by 2025.
In total there is seating for up to eight with two luggage compartments. Technology features includes a Head-up display which projects information via augmented reality as well as a flexible centre console with tablet display and Beats Audio Bluetooth loudspeakers which can be used outside the vehicle.
Familiar design elements can be seen on the front end, with the characteristic "V" and 'face', it clearly takes inspiration from the VW Microbus of the 50s, but in a completely new interpretation.
Klaus Bischoff, Volkswagen Head of Design, said: "The I.D. BUZZ is not a retro design on 22-inch wheels; rather, we have taken the logical next step forward in development using what is in all likelihood the most successful design of its kind in the world. The entire design is extremely clean with its homogeneous surfaces and monolithic silhouette. The future and origins of Volkswagen design DNA combine here to create a new icon."
Short body overhangs also define the vehicle, as does the roofline with its charismatic front overhang and three stylised air vents in the rear roof pillars, a small tribute to the T1. Each detail has, however, been re-interpreted and implemented in a new context.
At the front, wrap-around ambient lighting forms a 'new era' equivalent of chrome trim. At the rear, the slender full-LED lights and large painted surfaces make up the iconic design. The tailgate extends far down into the bumper to give a low load sill height of 23.6 inches. The doors and boot lid are power operated: opening the tailgate, front doors and rear sliding doors is initiated by sensors outside the vehicle. Thanks to the Digital Key, all the user needs to do is hold his or her hand over a marked area for entry.
With traction for 'any terrain' the all-wheel drive concept features a power output of 369 bhp, a 0-60 mph time of 'approximately 5 seconds' on to a governed top speed of 99 mph. The vehicle's 111 kWh battery can be charged to 80 percent of its capacity within 30 minutes using the Combined Charging System (CCS) or an inductive charging interface, with a charging rate of 150 kW.
The North American International Auto Show runs from 8 to 22 January, 2017.