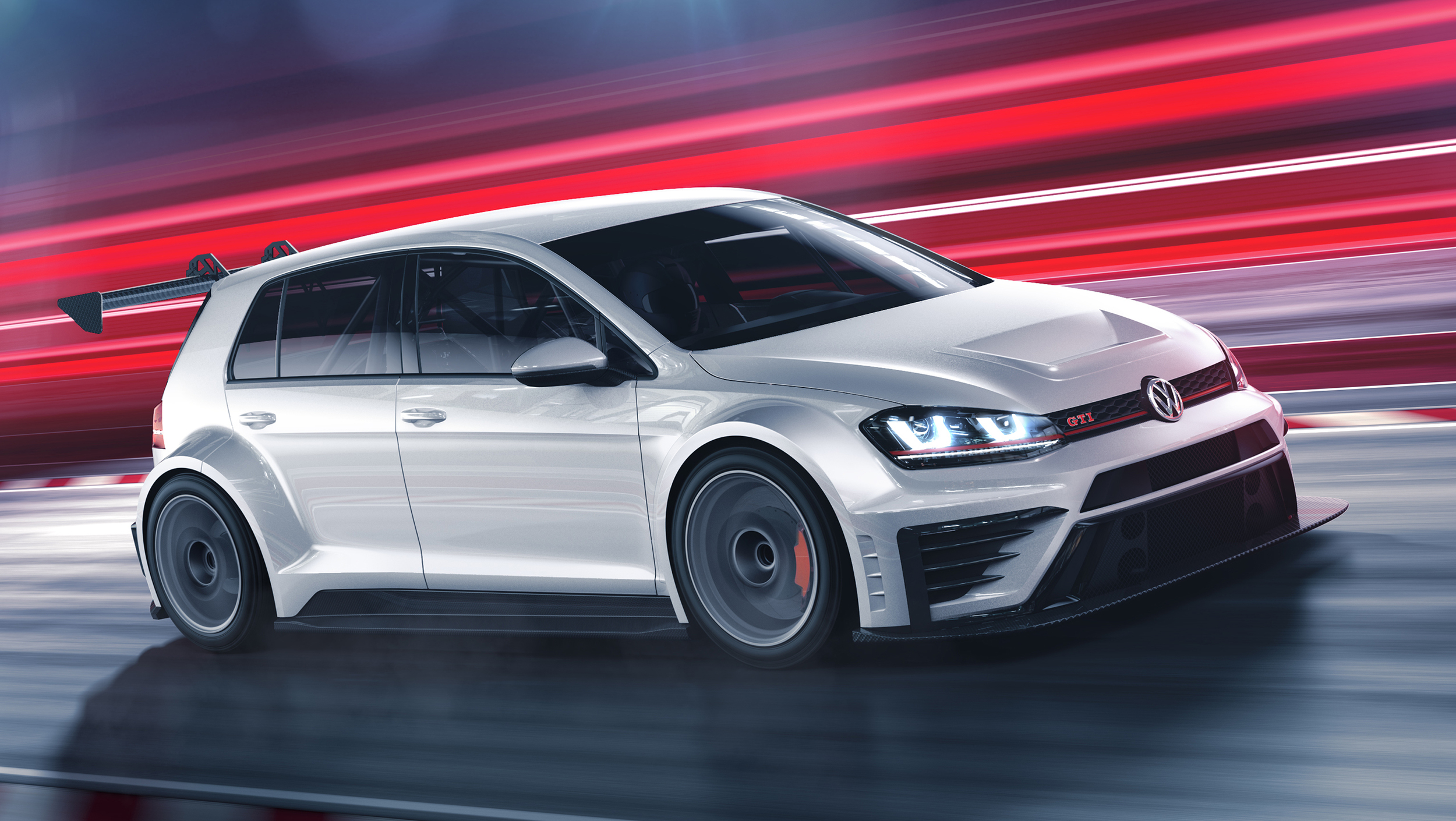 Volkswagen has unveiled its Golf GTI TCR (Touring Car Championship) competition car.
Riding on 18-inch racing rims and with a chassis that is roughly 40 centimetres wider than the production Golf, the huge rear wing also guarantees 'optimal handling'. An aerodynamic front splitter and carbon rear wing are among the modifications for the racetrack, while features that ensure maximum safety for the driver are a racing seat with head protectors, racing safety cage, and an FIA-approved safety tank.
The new Golf GTI TCR includes a powerful straight four-cylinder engine, a sequential gearbox with shift paddles located on the steering wheel, and a 'consistently developed racing chassis'. Volkswagen Motorsport developed the car in cooperation with the sport department at SEAT, using experience gained with the SEAT Leon Cup Racer. The 2-litre turbo engine with direct fuel injection is the same one used in the top sporting model, the Golf R. The racing version generates 243 kW (330 PS) and produces 410 Nm of torque.
The racetrack is not the only place the Golf GTI is celebrating its 40th birthday. To mark the anniversary, Volkswagen is launching the most powerful production GTI ever: the Golf GTI Clubsport. VW presented sketches of the new car at the GTI meeting at the Worthersee in May 2015, before unveiling a production model at the Frankfurt Motor Show in September. The 2-litre TFSI engine generates 265 PS – that is 35 PS more than the previous most powerful Golf GTI. Another feature of the turbocharged direct- injection engine is a boost function, which allows the driver to briefly increase the engine power by ten per cent to 290 PS.
Quotes on the customer sports project with the Volkswagen Golf GTI TCR Jost Capito, Volkswagen Motorsport Director said: "The Golf GTI TCR allows customer sports teams to partake in reasonably-priced motorsport with a Volkswagen. Furthermore, the teams can expand their motorsport commitments innumerous TCR championships, both at national and international level. "
Eduard Weidl, Head of Customer Sports added: "The use of the Volkswagen Golf GTI TCR in customer sports is a great opportunity, the likes of which we have not seen before on the motorsport scene at Volkswagen. When developing the technology, our main focus was on keeping the running costs at races as low as possible."
20 Golf GTI TCRs will be built, although all have already been snapped up by private racing teams. The 2016 TCR International Series gets underway 1 April in Bahrain.