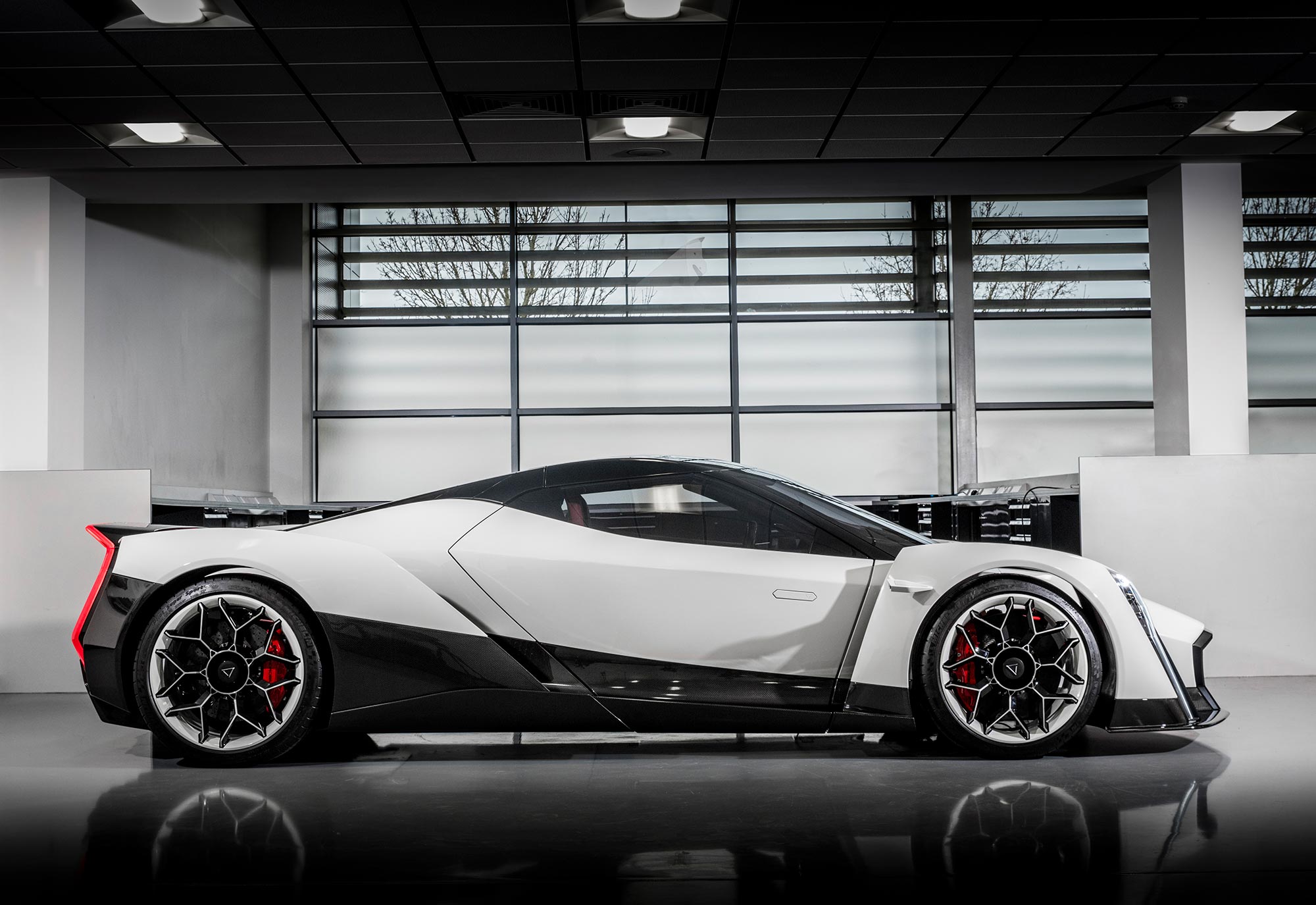 The covers have come off Singapore's first-ever hypercar - the Dendrobium - at the Geneva Motor Show.
Making its world debut, Vanda Electrics' Dendrobium is a two seater all-electric sports car concept, with a 'striking design' and a targeted top speed in excess of 200mph.
Specialising in battery technology, research, innovation and design - Vanda Electrics is one of Singapore's leading e-mobility companies, and will launch a fast-charging zero emission electric light commercial vehicle and electric mini scooter later this year.
However the company has chosen the 2017 Geneva Motor Show to unveil its high performance halo product that will sit in the luxury sector.
Having Williams Advanced Engineering as a Technical partner, the British firm helped in a number of core areas including aerodynamics, lightweight structures, vehicle integration and, of course, electrification.
Designed by Vanda's in-house team, the concept's shape incorporates automatic roof and doors, which open in a synchronised manner, said to resemble a fully-opened dendrobium flower, a genus of orchids native to Singapore. This also improves access to the cockpit, making ingress and egress easier than other hypercars.
The tear drop shape that forms around the cockpit and ends in the tail - where the plug-in port is located, just behind a panel above the charging light - is a design feature that has remained a key part of concept from the initial sketches. The new car also features an aerodynamic floor, rear double diffuser and front splitter. At the rear, a light bar 'floats' over the tail of the car, and throughout the design there is pure, motorsport-inspired functionality, such as the exposed double wishbone front and rear suspension.
A composite monocoque chassis, carbon fibre body panels, carbon ceramic brake discs and lightweight alloy calipers inside 20-inch front and 21-inch rear alloy wheels all help meet a target weight of 1,750kg.
Although strictly a concept car at this stage, performance targets include a top speed in excess of 200mph and a 0-60mph time of 2.7 seconds. The project will feature the latest lithium-ion battery and electric powertrain technology calling on Vanda Electrics' own expertise and that of technical partner Williams.
Should the Dendrobium go into production, a layout featuring two inboard-mounted electric motors per axle, with a single-speed gearbox and differential at the front and a multi-speed gearbox and differential at the rear, is envisaged.
Carbon fibre is also used extensively in the interior, fitting with Dendrobium's 'minimalist but functional' design brief. On the inside, bright red body-hugging sports seat - which contrasts with the predominately black interior - feature stitching and motifs inspired by 'muscle fibres'. In the driver's eye line, a digital dashboard flanked by two rear-view displays, take feeds from wing-mounted cameras. All of the dashboard buttons are hexagon-shaped: a recurring design theme throughout Dendrobium, replicated in the air vents, front grille and headlight bezels.
Vanda Electrics says if it receives enough positive interest at the Geneva Motor Show, the first model is expected to hit the road by 2020.