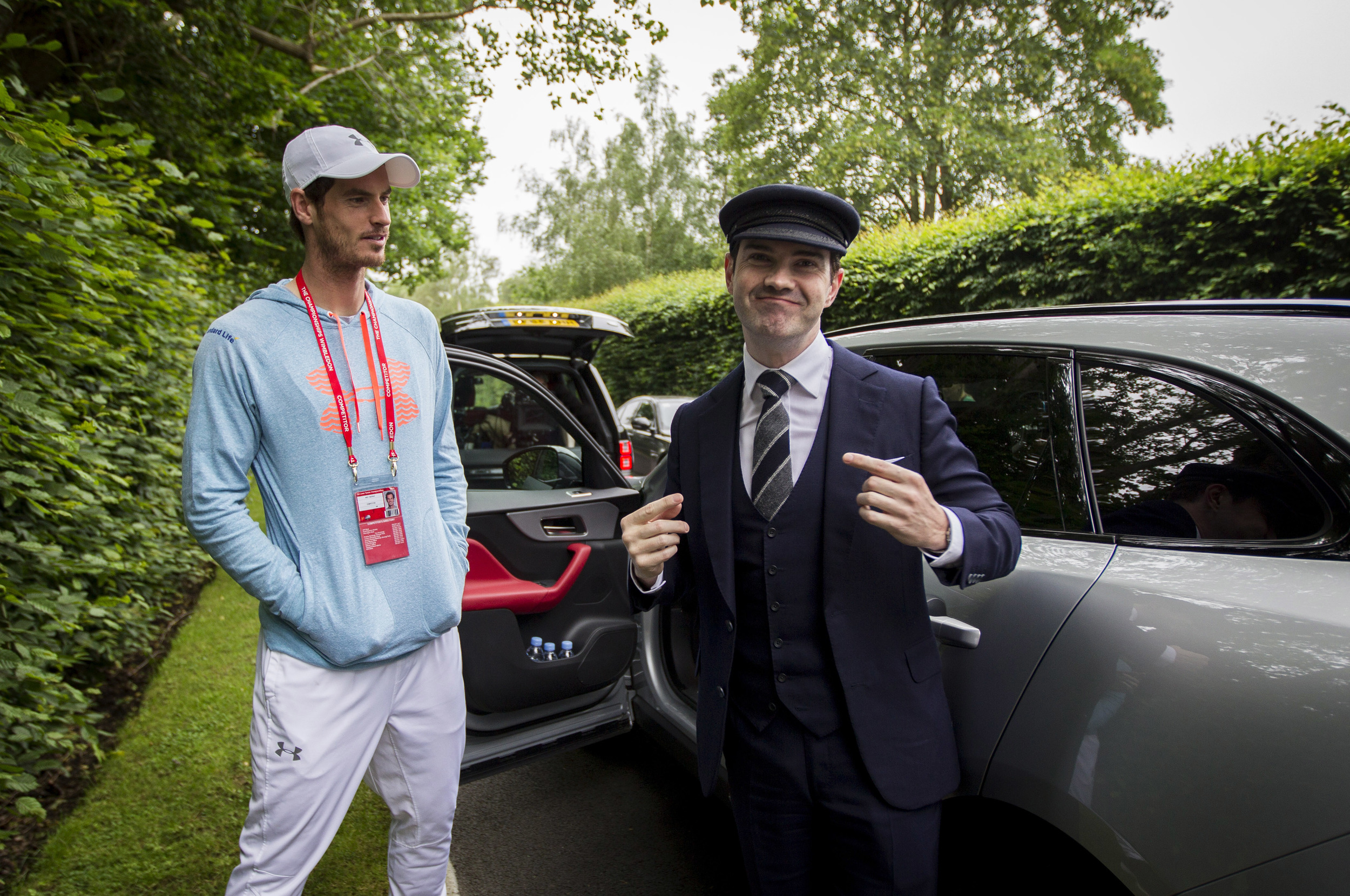 Andy Murray was surprised to see comedian Jimmy Carr was his driver for the day.
Jaguar joined forces with 'Team Murray' and the British comedian to pull off a prank on Andy Murray as he warmed up for his second round match against Lu Yen-Hsun at Wimbledon. The stunt combined Jaguar Land Rover's role as official car supplier for the Wimbledon Championships with Andy Murray's new role as Jaguar ambassador, and the face of this year's #FeelWimbledon campaign.
Picking up Murray early in the morning in the new F-Pace SUV, Carr helped relieve the tension for the Scot as he attempts to win his second Wimbledon title. New father Murray rose to the occasion as the pair discussed yummy mummies, Ivan Lendl's paunch, and the art of grunting - whilst Carr offers some tactical advice on how Andy could put off his opponents.
Murray said: "We have a really close team and are often playing practical jokes on each other – this was definitely one of the better ones. Jimmy is one of my favourite comedians, I've been to see him live before but to have a front-row seat to this show was amazing!"
He added: "Tuesday's match was the perfect start to my Wimbledon campaign. Broady is a young player who has come a long way over the last few years and I'm confident he has got more to show us."
Jimmy Carr, who is an avid tennis fan and will be present at SW19 on Monday to watch Murray, said: "I look like Roger Federer's weird younger brother so who better to take on the position of Jaguar's 'Secret Chauffeur'. I love everything about Wimbledon; the excitement, the crowd, the anticipation, the £15 punnets of strawberries. Now we are chums hopefully Andy will give me a wave in the crowd this time and make it extra special."
Andy Murray will receive his own F-Pace in his new ambassador role - while other players and VIP's will be chauffeured to and from Wimbledon during The Championships in the fleet of 170 luxury vehicles Jaguar provide to support event operations.
Watch Carr and Murray star in Jaguar's Secret Chauffeur film below: