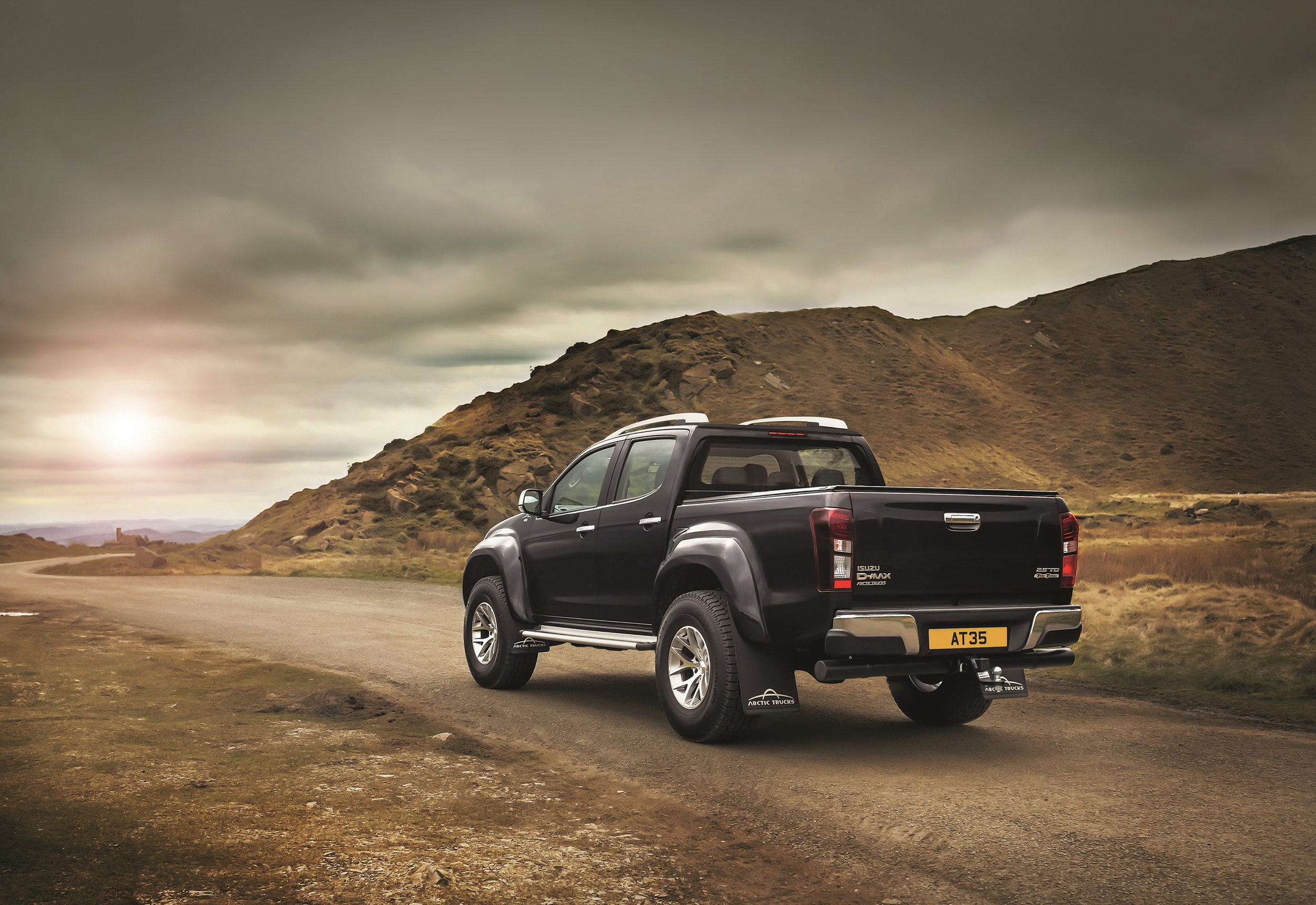 Isuzu has teamed up with Arctic Trucks for an extreme D-Max Arctic Trucks AT35 pick-up.
Available in either double-cab or extended-cab configurations, Isuzu says the AT35 is the most 'extraordinarily capable' pick-up it has ever sold. With 'unprecedented' off-road capabilities the AT35 builds on the strong and durable D-Max platform and includes high levels of standard equipment along with a 'comprehensive' accessories list.
Arctic Trucks is a vehicle engineering specialist, developing and building 4x4 vehicles, with the new D-Max becoming the first Arctic Trucks pick-up in the UK that can be ordered directly from a vehicle manufacturer's dealer network.
The AT35 retains the one-tonne payload and 3.5-tonne towing (braked) capacities from the D-Max but introducing several key hardware enhancements. Suspension is re-engineered with Fox Performance Series shocks, which help deliver increased mobility over even the most rutted tracks and brutal boulders. Special all-terrain Nokian Rotiiva AT tyres endow the AT35 with improved all-round grip in the most challenging, slippery conditions. These huge 35-inch tyres are specifically engineered for off-road surfaces, with the rubber fitted to 17"x10" wheels, considerably larger than the standard D-Max. The vehicle accommodates larger diameter tyres and boasts wider extended flares, giving the AT35 'a securely planted and powerful look' says Isuzu.
Ride height is 125mm higher than the equivalent standard 4x4 Isuzu D-Max. With the increased ground clearance comes greater approach, departure and break-over angles as well as improved all-round visibility for drivers and passengers.
The extended-cab body was designed from the ground up as an 'open-cab' pick-up. To create this space-making design, Isuzu's engineers developed a second-row, rear-hinged door, also known as the side-access panel (SAP) on each side of the vehicle. To ensure maximum strength, and safety in the event of a collision, a one-piece B-pillar was incorporated into the leading edge of the side access panels. This results in uninterrupted access to the side of the cabin, ideal when loading large items behind the front seats.
The 'refined and well-appointed premium' interior includes a six-speaker audio package with an 'Exciter' speaker in the roof lining, plus iPod/USB/Bluetooth connectivity to provide high-quality sound. Heated and folding door mirrors (including side indicator repeaters) and a leather steering wheel with audio and cruise controls provides additional safety and convenience. The double-cab model also includes full leather upholstery as well as automatic climate control air-conditioning.
Exterior standard features include projector headlamps, body-coloured front bumper, chrome door handles and chrome grille and chrome rear bumper, LED rear lights and a rear load liner. The double-cab model also adds roof bars and rear parking sensors for further increased practicality.
The AT35 is powered by a 2.5-litre twin-turbo diesel engine that delivers 163 PS and 400 Nm torque for all models in the D-Max line-up. The five-speed automatic features sequential manual shift control so that drivers can take direct control of gear selection for a more engaging experience – or allow the transmission to operate fully automatically to suit their mood and the terrain. Buyers of the double-cab AT35 can select an auto transmission.
A shift-on-the-fly two- /four- / low-ratio four-wheel drive selector dial is located on the centre console. The system allows drivers to switch between two-wheel drive and high-ratio four-wheel drive at speeds up to 60 mph. Low-ratio four-wheel-drive can be engaged while stationary with the transmission in neutral, and, combined with other Arctic Trucks enhancements, means the AT35 can crawl up and over 'almost anything'.
On sale across the UK from late spring 2016, (CVOTR) prices start from £30,995 to £34,495.