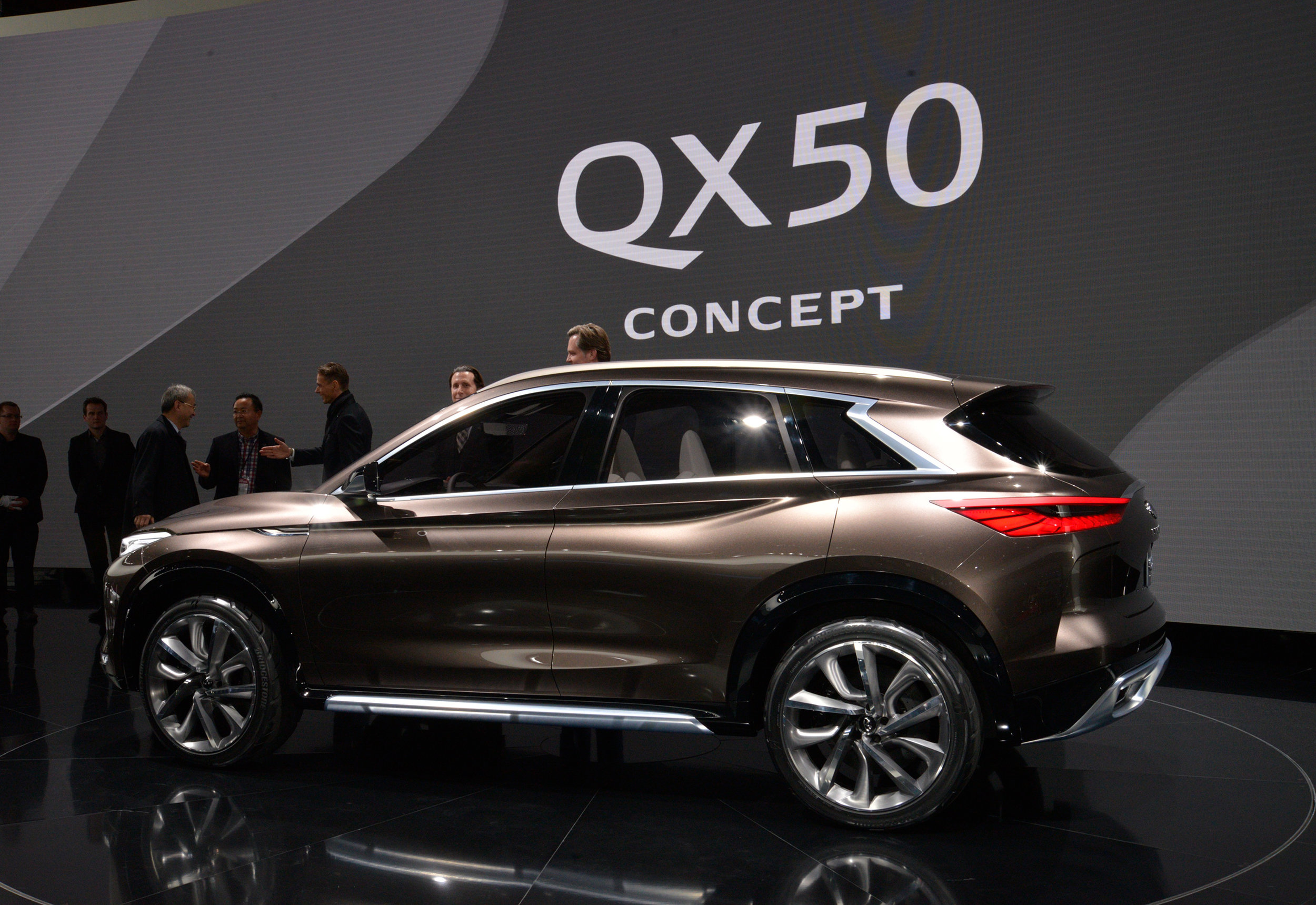 Following on from the 'QX Sport Inspiration' which debuted at the 2016 Beijing Auto Show, the new QX50 Concept further showcases Infiniti's vision for a next-generation mid-size premium SUV.
A cabin-forward silhouette combines with 'muscular lines and flowing surfaces', demonstrating the car's purpose as a 'dynamic and practical SUV'. Infiniti's latest concept also previews the brand's autonomous drive support technologies, which ensure the driver retains ultimate control over the vehicle. In keeping with Infiniti's focus on driver engagement, the autonomous drive support systems will act as a 'co-pilot' for the driver, 'empowering rather than replacing' human control.
The centre of the dashboard features a wide touchscreen HMI (human-machine interface). As well as displaying navigation and infotainment features, the QX50's touchscreen could display to occupants the current status of other technologies in the vehicle. The dashboard could also display the status of the vehicle's various autonomous drive support technologies.
The driver's instrument panel provides detailed information on the autonomous drive support technologies, as well as the transformation of the engine's compression ratio as it shifts between offering greater fuel efficiency and performance.
Signature Infiniti design elements are evident on the concept, such as the brand's double-arch grille. A newly-created Forged Bronze paint finish, with three times the amount of metal flake compared with standard production paint finishes is unique to the QX50 Concept, while on the inside, the cabin demonstrates 'a new direction' of thinking with premium materials and craftsmanship.
The front-biased all-wheel drive concept is powered by the Infiniti's new, advanced 2.0-litre VC-Turbo petrol engine. The company says a mid-sized SUV could be one of the ideal applications for the 2.0-litre VC-Turbo power unit, revealed in 2016. The VC-Turbo engine is described as an alternative to diesel powertrains. Infiniti goes on to describe how the VC-Turbo engine is able to adapt its compression ratio according to driving conditions, to deliver 'optimal' levels of performance and efficiency, challenging the notion that hybrid technology and diesel are the only powertrains capable of offering high efficiency and torque.
With a downsized capacity and high power and torque, VC-Turbo engine features a power output higher than many competing four-cylinder turbocharged petrol engines, says Infiniti and is close to the performance of some V6 unit. Engineers are targeting a 27% improvement in fuel efficiency over V6 petrol engines of similar power output in time for the engine's production debut in 2018.