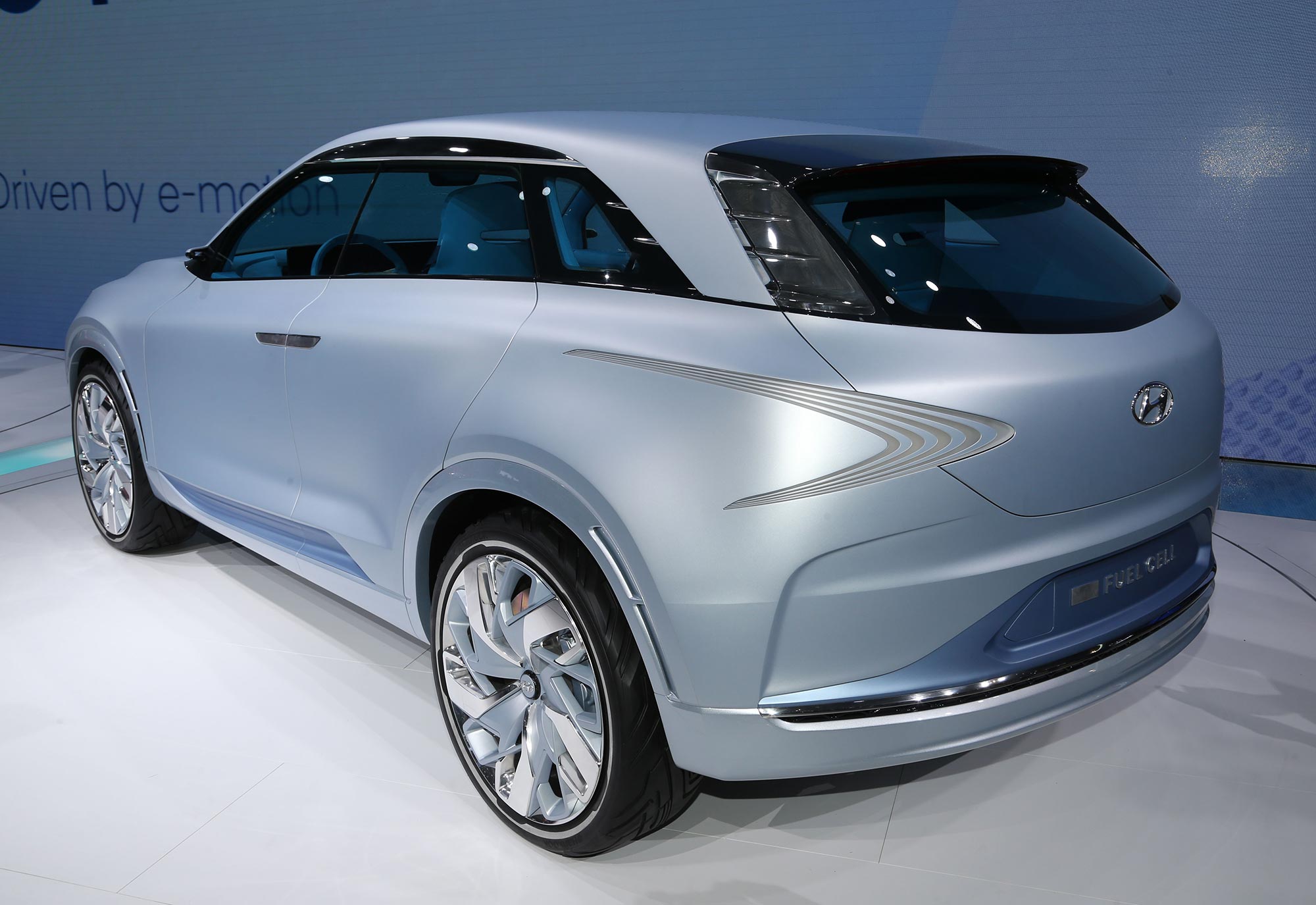 Hyundai has unveiled a futuristic FE Fuel Cell Concept, previewing its next generation of hydrogen-powered vehicles.
The FE Fuel Cell Concept continues Hyundai's commitment to fuel cell vehicle development and is part of the company's eco-vehicle program that will see 14 or more new environmentally-focused models introduced by 2020. Spurred on by greater global demand for fuel-efficient, eco-friendly vehicles, the program continues the example set by IONIQ, the first car to offer a choice of three electrified powertrains in a single body type.
Hyundai says the FE Fuel Cell concept's 'flowing form' is inspired by nature and water – the car's only emission – with the clean and calm design emphasising its non-polluting nature. At the rear, there is an air foil and integrated vents that provide aerodynamic efficiency.
Designed to run for more than 500 miles between refuelling, elements of the FE will influence an SUV Fuel Cell model set for launch in 2018, which will feature advanced 'Hyundai Smart Sense' driver assistance technologies, alongside a hydrogen-powered range.
The name 'FE' stands for Future Eco, reflecting the new technologies that complement the car's eco-friendliness. One of the most notable characteristics of the new concept is its internal air humidifier, which recycles water emitted by the car's clean hydrogen energy circulation to create a more comfortable cabin environment.
The FE uses Hyundai's fourth generation of hydrogen fuel cell technology, and when compared with the current generation system used in the Tucson ix35 Fuel Cell, it's 20% lighter and achieves 10% greater efficiency. In addition, the power density of the fuel cell stack is increased by 30%, boosting the car's range significantly.
The show car also features portable battery packs – charged by the car's energy output – to power passenger devices. Meanwhile, the boot features an integrated storage and charging space for an electric scooter.