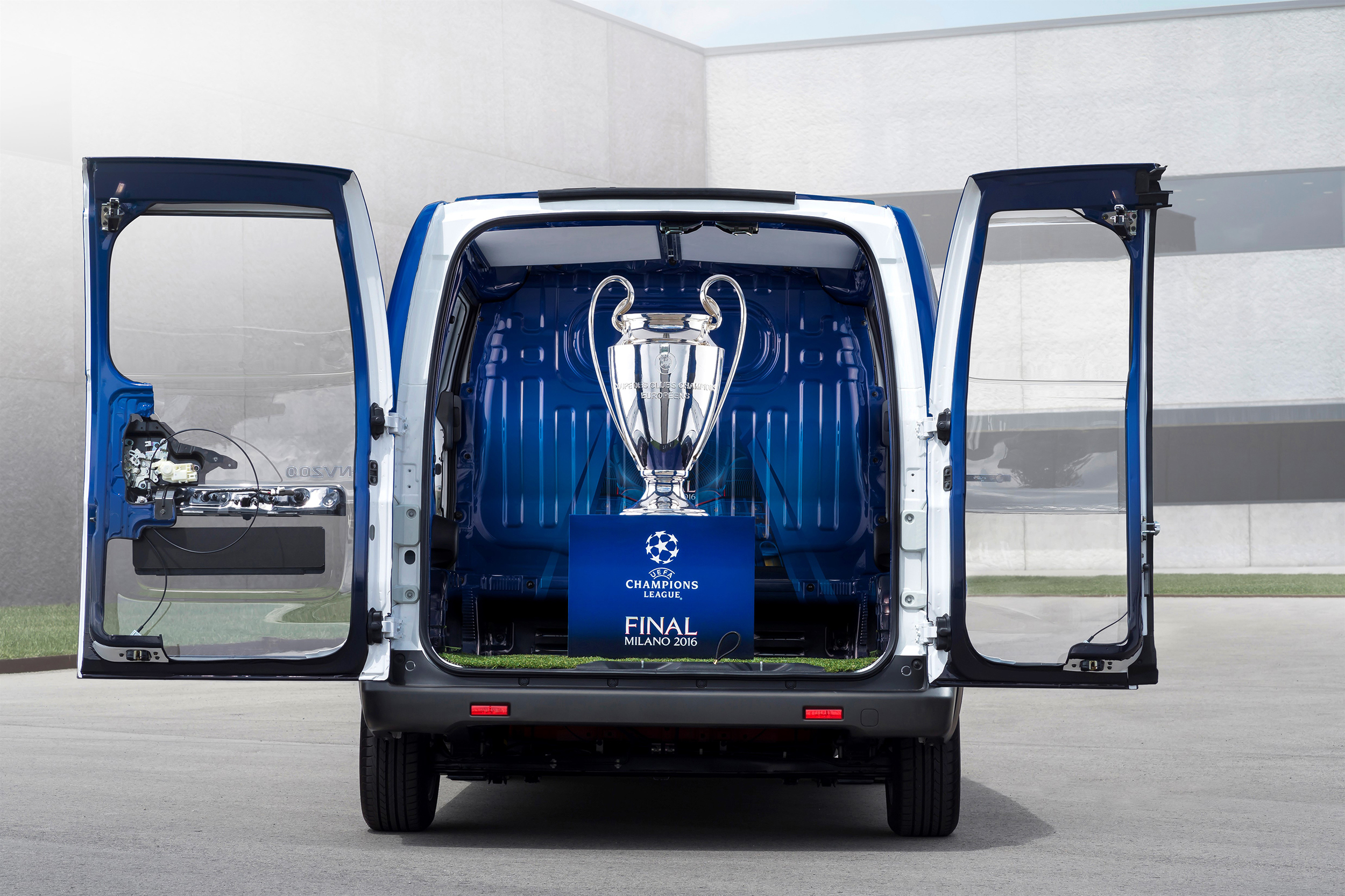 With the UEFA Champions League final just around the corner, Nissan has built a special e-NV200 all-electric trophy van.
It comes as part of Nissan's role as official global automotive sponsor of the Champions League, with the Japanese brand also confirming it will supply more than 100 electric vehicles for the Final in Milan.
Nissan will transport the trophy in the unique e-NV200 van to the fan festival at Duomo di Milano on Thursday, May 26 where it will remain until the big match. Ahead of the final on Saturday May 28, a unique Nissan LEAF will then take the trophy to the San Siro stadium as part of the UEFA Trophy Parade.
As a gift to Milan and its surrounding airports, Nissan in partnership with A2A is installing 17 public EV rapid chargers, 13 of which will remain free of charge following the UEFA Champions League Final weekend.
Gareth Dunsmore, Director of Electric Vehicles for Nissan Europe said: "The final in Milan this weekend marks the climax of another exciting year partnering with the UEFA Champions League – the most prestigious football tournament in the world. We began this journey last season and we were delighted to provide electric vehicles and charging points in Berlin, a journey we look to continue at the final this year in Milan. The great relationship we have with UEFA means we have been able to provide something long lasting and positive to both cities during our first two seasons as a sponsor of the UEFA Champions League.
"Poor air quality and increasing greenhouse gas emissions are very real challenges facing cities all over the world, including Milan. Zero emission vehicles provide a tangible solution to these challenges, and the fast charge stations built by Nissan in Milan will be decisive regarding the take up of all-electric mobility and will be left behind after the final for the public."
Last week the Milan Town Council inaugurated the Nissan project for the installation of 12 rapid chargers on municipality area in partnership with A2A. The initiative represents the largest fast charge infrastructure installation in a single city in Italy.