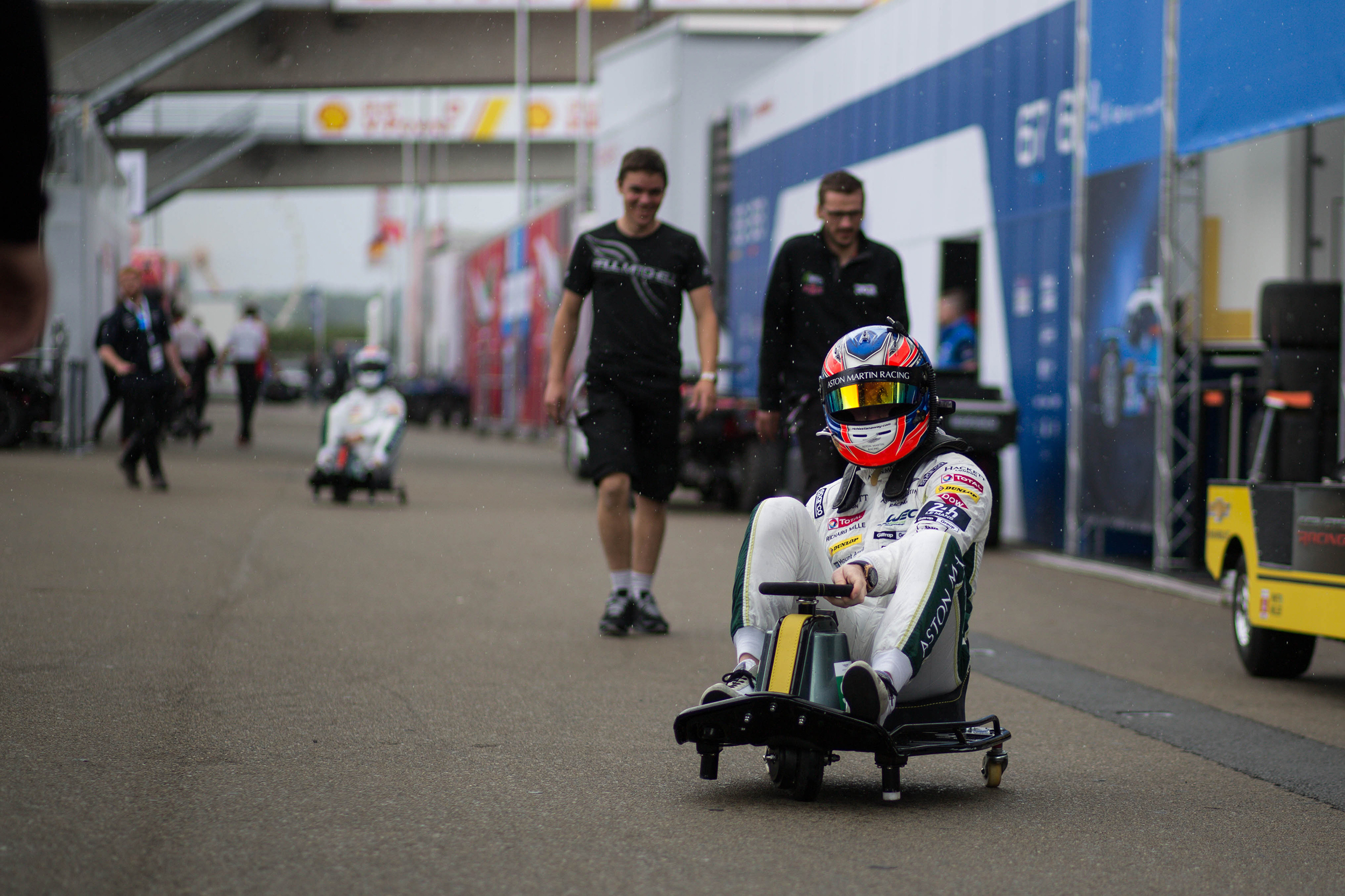 Aston Martin Racing drivers have taken to the Le Mans circuit in something a little more tail happy, after trading in their Le Mans V8 Vantage GTE challengers.
Ahead of the 84th running of the 24 Hours of Le Mans, the team's factory drivers took to the track in uniquely modified Razor Crazy Carts. Trimmed and painted by Aston Martin's 'Q' personalisation service, the popular drift and drive machines have been given the full bespoke treatment. Featuring a full hand stitched leather and alcantara seat & steering wheel, and with the hand-painted body finished in a Stirling Green, the carts have received the same attention to detail as the recently launched Vantage GT8; the car inspired by the V8 Vantage GTE racers at Le Mans this weekend.
Despite pushing the carts to their limits, the trio managed to avoid a visit to the gravel traps, while discovering a new way to take on the Dunlop Bridge complex. Darren Turner (GB) of GTE Pro entry #95 said following his stint in the cart: "It's always great to test something a little bit different and this was no exception. This is my 14th year here at Le Mans and I've never driven anything so sideways on this circuit. We're a competitive bunch and as soon as the helmets were on, this race was no different."
Richie Stanaway (NZ) of sister GTE Pro entry #97 added: "It's a little bit wilder than my V8 Vantage GTE, but I've definitely mastered the 360-degree powerslide. When I'm not racing in the 24 Hours of Le Mans, you'll now find me behind the wheel of this little racer instead."
The Le Mans 24 Hour race takes place this weekend.
Watch the guys in acton below: