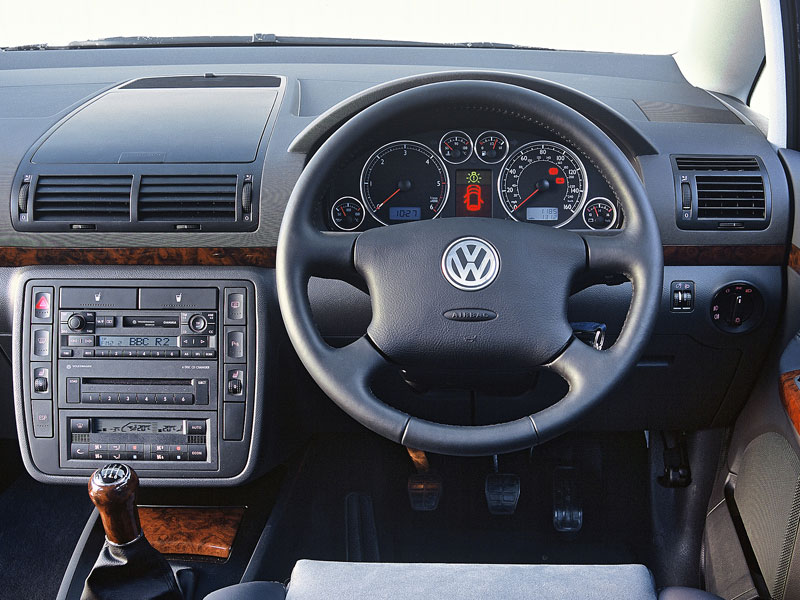 The first-generation Sharan was on sale for an astonishing 15 years, so it was inevitably long in the tooth by the time it went out of production. A relative lack of cabin flexibility, little in the way of cutting-edge technology or safety features plus a cramped cabin for seven all betray the Sharan's age. But for value, strength and surprisingly good dynamics the Sharan is still well worth a closer look - especially as there are plenty to choose from.
Key Dates
8/95: The Sharan debuts, with 2.8 V6 petrol or 1.9 turbodiesel engines.
10/97: Two new petrol engines appear; a normally aspirated 2.0 and the 1.8T.
5/00: A facelifted Sharan brings a redesigned nose, tail and interior, plus slightly increased track and wheelbase.
1/03: A 130bhp 1.9TDi engine is now available.
11/03: Another facelift brings a new grille, bonnet and tail lights.
11/04: A 4WD Sharan 1.9TDi debuts.
2/07: A 2.0TDi engine is now offered.
5/08: The 2.0TDi Bluemotion appears.
Volkswagen Sharan (1995-2010) Checklist
Some early cars were personal imports; check they're to UK spec.
Wiper motors get waterlogged, so the wipers won't switch off. Repairs are costly.
Some earlier cars suffer from water leaks into the cabin. Water gets in through the ventilation system and wrecks the ECU/electrics.
Turbochargers can fail on TDi models; look for black exhaust smoke and check the service history for signs of regular oil changes.
Five and six-speed manual gearboxes on TDi models can be weak.
Cam belts are best replaced after 60-70,000 miles, or they snap and wreck the engine.
Oil pumps can fail on 2.0TDi engines.
We Like
Seats seven
Strong
Good to drive
Excellent diesels
Plenty about
We Don't Like
Cramped interior
Inflexible cabin